A2C Academy provides executive coaching, career training, and online educational boot camps for working professionals, college students, and middle/high school students.
Our mission is to help people reach their full potential, growing from an A-Player to C-Suite Leader, from A-students to the Best Colleges.
Our coaches and teachers are c-level executives, the best professors from world-class universities, rockstars from the hottest companies in the world, public company board members, and top executive recruiters. We provide paradigm-shifting transformations, inside-out, and outside-in. We build a thriving career and life ecosystem full of experts to assist you and guide you throughout your career, and a fun and meaningful life.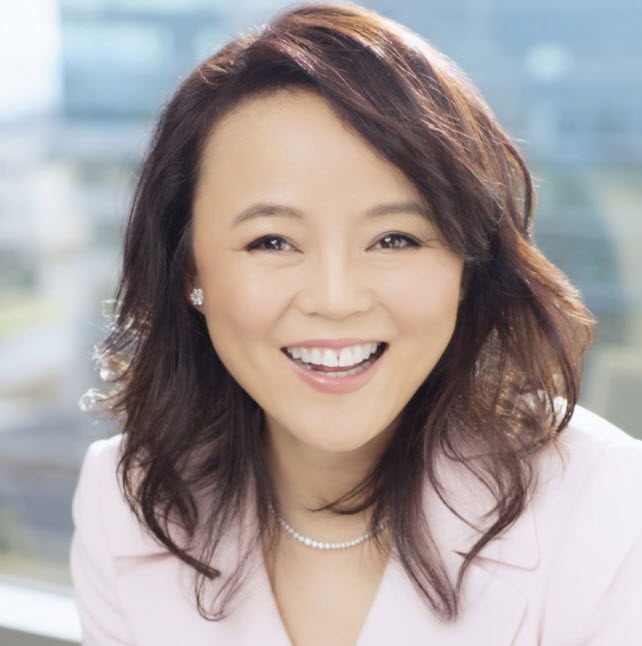 Elizabeth Xu, Ph.D.
Elizabeth is a public company board member and the CEO of A2C Academy. She has served as two CTO positions of billion-dollar revenue companies: CP Group and BMC Software. She became a C-level executive in 2005 at a public company. She provides coaching in Leadership, Digital Transformation, AI, and cloud. She is also an investor for early-stage companies.
Dr. Elizabeth Xu has taught at Stanford University for 6 years about leadership, and currently is a guest lecturer at Stanford University Teaching Digital Transformation at the Department of Engineering Management Science. She is also the advisor for MIT Innovation Initiatives.
Elizabeth earned a M.S. and B.S. degrees from Peking University and a Ph.D. and a Master's Degrees from University Nevada, and She is a Harvard certified board member and attended the Stanford Executive Program.
Elizabeth received the TOP 50 Diversity Leader in the United States in 2020, the Presidential Award in 2019, the Global Leadership Award in 2018, the WITI Hall of Fame Award in 2017, and Women of Influence in Silicon Valley in 2013. She also received 10+ other prestigious awards. She is a trailblazer, leading a creative and proven path to the top.
Elizabeth lives by the credo of the four "L"s
1. Live to my fullest potential.
2. Love the enable others to reach their fullest potential.
3. Learn continuously.
4. Leave a legacy.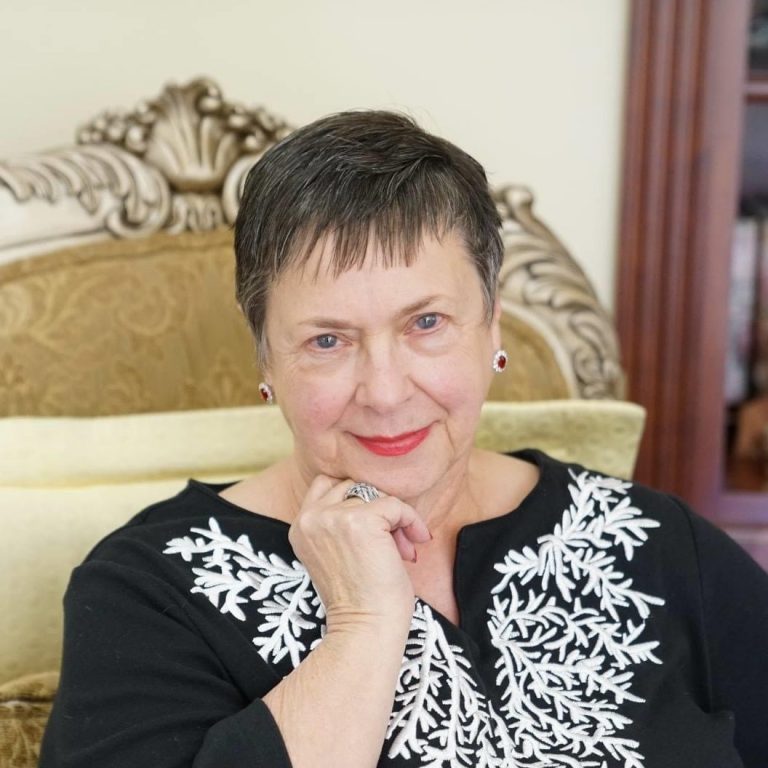 Ms. Patrica Zimmerman
Pat has been Elizabeth's mentor for 30 years. She retired from AT&T at age 43. She retired the 2nd time from the positions of the Chairman and President of Osher Lifelong Learning Institute, University Nevada, Reno.
Pat has been teaching and coaching various students and working professionals since 1989. She has contributed significantly to the community.
Pat is the winner of Jefferson and Kennedy Awards and many other prestigious awards. As a lifelong learner and mentor, she believes that " The day you stop learning, is the day you start dying".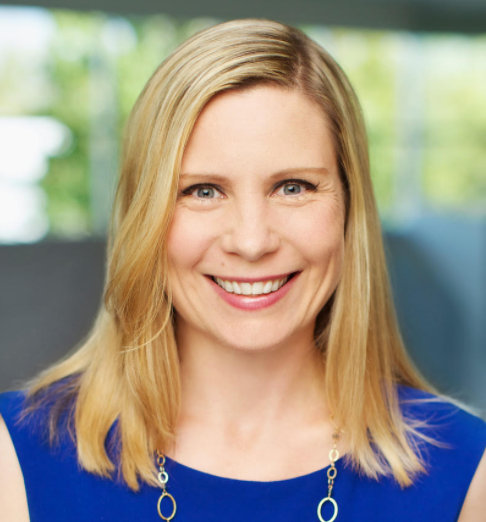 Megan Dahlgren
Megan has a 20 year career in technology market research, marketing and go-to-market strategy leadership. She spent many years abroad living in Sydney Australia and Paris France covering both Asia Pacific and European markets as an industry expert with IDC. Later she held numerous marketing leadership roles working with C-Suite executives: head of product (Group President), head of engineering (CTO) and heads of marketing (CMO) and pre-sales (Chief Customer Officer) for a multi-billion revenue software company, BMC Software.
Most recently Megan was CMO for a premier Google Cloud partner specializing in AI/ML services. She is passionate about marketing innovation and improving the customer journey by more effectively aligning the customer experience from top of funnel all the way through to onboarding and customer advocacy. Megan has two master's degrees: Masters of Media from University of Technology Sydney and an MBA from HEC School of Management in Paris. Megan is passionate about mentoring others, taking on interns, and giving back through organizations like Girls Who Code and the Girl Geek Dinner. She lives in San Francisco with her husband and two children. She speaks fluent French.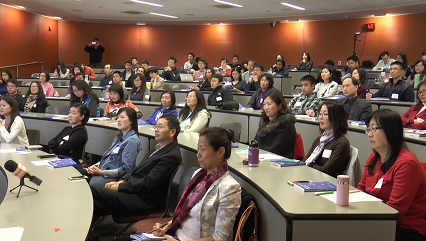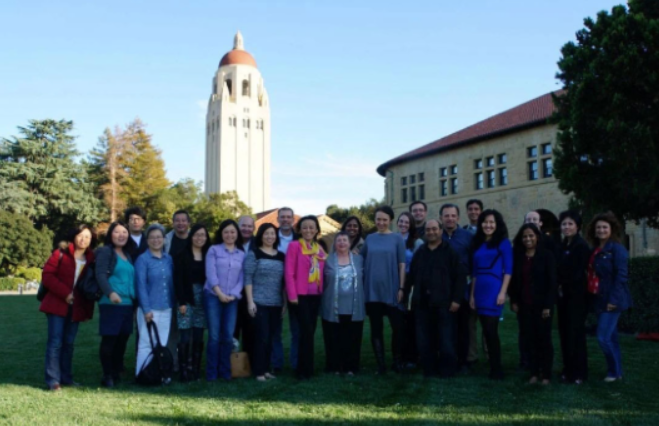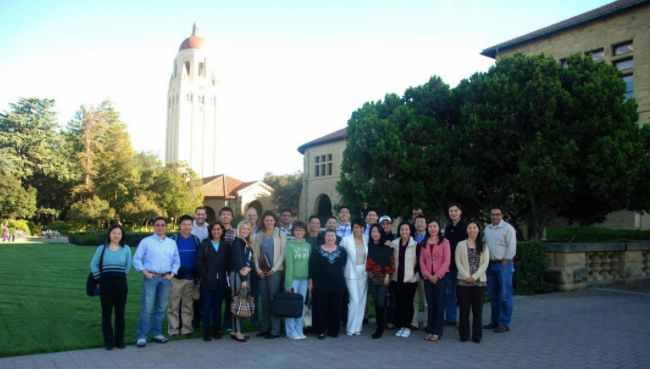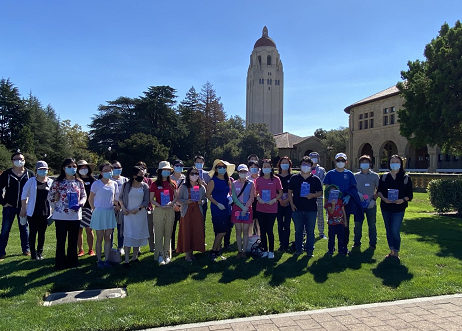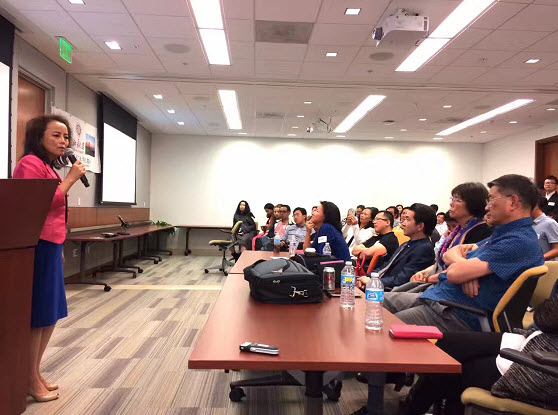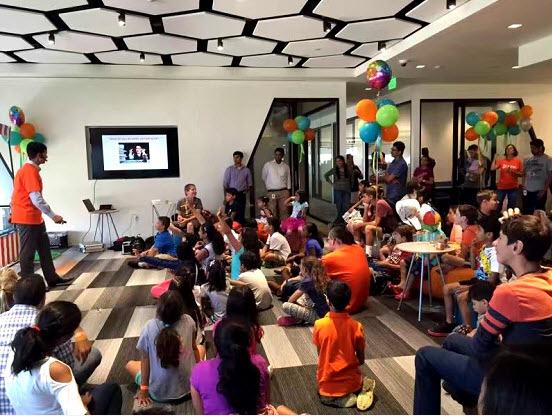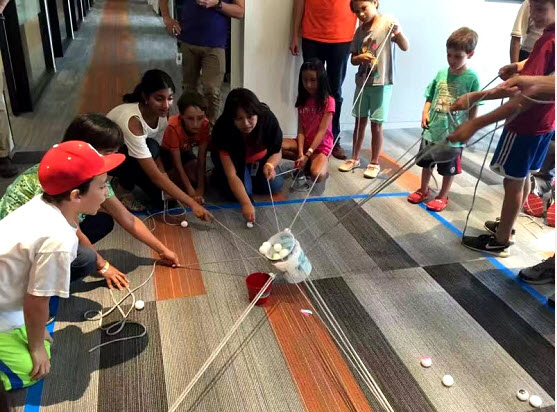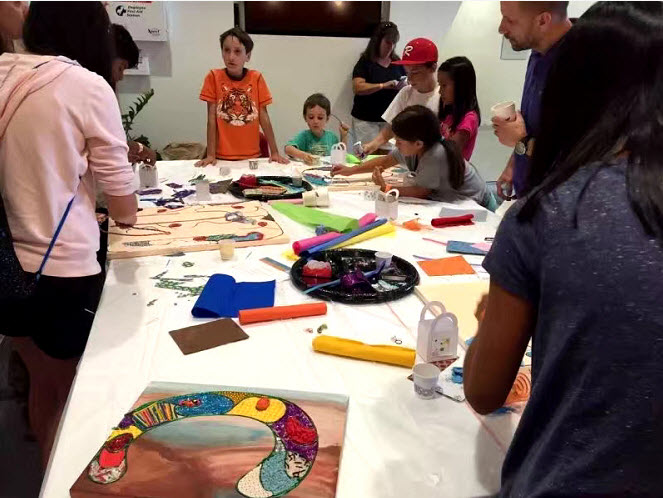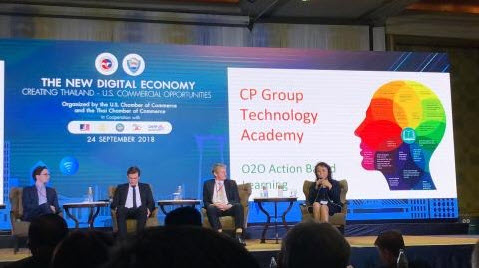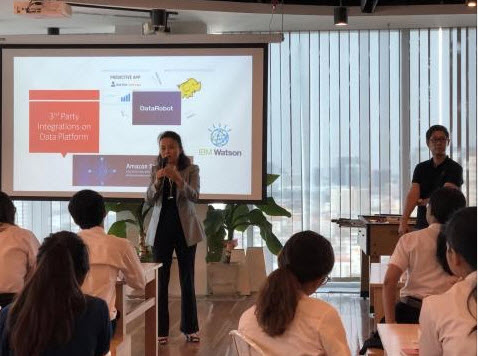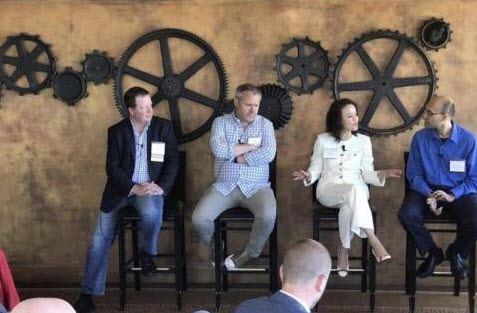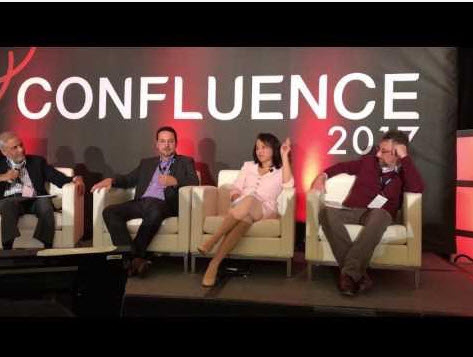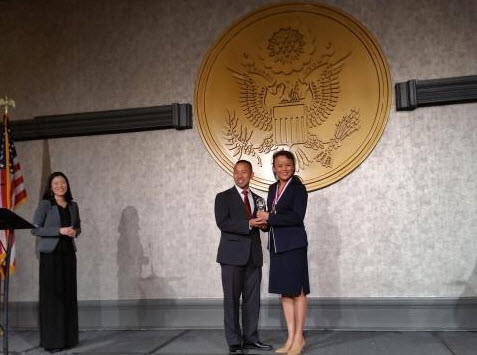 A2C Academy has 30 years of heritage, it started at the San Francisco Airport.
In June 1990, Ling, a college student who graduated from Peking University landed at SFO from Beijing, China for the first time. She only had $45 with her. A friend who came to pick her up got a speeding ticket for $210 on their way to the University in Reno! She lost all her money within 3 hours!
The rest of 1990 was a struggle for survival, expenses, language, and an attempt to fit into a foreign culture for this young lady.
A snowy morning later that year, Ling noticed an ad at the bus stop, "Free English tutoring." Out of desperation, she called that number and met her mentor for life, Pat Zimmerman. Pat was a volunteer trainer at the Northern Nevada Literacy Council. Newly retired, Pat was inspired to tutor by the example of then First Lady Barbara Bush.
At her request, Pat named Ling "Elizabeth" after the British Queen Elizabeth II. Pat taught Elizabeth English and mentored her in many areas. With Pat's help, Elizabeth learned how to become part of American society. She also received her Ph.D. in Atmospheric Science and a Master degree in Computer Science, actually in the same week. She started to work for IBM Silicon Valley Laboratories in 1996 and was promoted to a manager position within 2 years.
Pat helped Elizabeth develop a career plan during graduate school. She suggested Elizabeth to always look 2 levels up and help her managers be more successful by adding value to the business. Elizabeth was promoted almost yearly.
In 2005, Elizabeth was promoted to SVP Engineering, reporting to the CEO at a public company. She entered C-Suite at a US-based public company within ten years. There were almost no female SVPs in Silicon Valley at that time and she became well known in Silicon Valley.
The Peking University Alumni organization asked Elizabeth to share her insight for career success. She came up with the "10 Steps to a Successful Career" talk, it was an instant success. The audience included 250+ people who came for her first talk. The talk snowballed to many Silicon Valley companies such as Apple, HP, Yahoo, Cisco, Google, and a few universities such as Berkeley, George Washington University, Santa Clara University and Stanford University. Pat sometimes came to Silicon Valley and co-taught classes.
In 2011, after 100+ seminars at various places, a student suggested that Elizabeth teach at Stanford Continuing Education and helped her connect with the dean. Within 3 months, Elizabeth and Pat started to teach their own class: "10 Steps to a Successful Career" at Stanford! Their students suggested that they should write the textbook. Elizabeth and Pat published their first book together in 2012. They earned 104 five stars over the course of 3 years at Amazon where the book, Myths of the Promotion: 10 Steps to a Successful Career, is published.
Elizabeth traveled globally in her CTO role at BMC Software, a $2.3 Billion Revenue software company, in 2016 and 2017. Her schedule did not allow her to teach anymore and Pat was busy with other other volunteer projects at that time also. They had to end their teaching career at Stanford University.
Late 2017, Elizabeth traveled to Thailand and accepted the Group CTO position at CP Group, a $65 Billion revenue international conglomerate. She decided to move to Thailand in February 2018. Where she again started to teach the 10 Step class this time to the local talent. The locals called her "Dr. Liz"
From 2005 till the end of 2019, Pat and Elizabeth have conducted 200+ seminars and 8 full-length boot camps, as well as six full semester classes at Stanford.
In June 2019, Dr.Liz moved back to the States. She led Be the Change Foundation volunteers to raise money for underprivileged kids who didn't have computers so they could attend classes remotely during the Covid 19 pandemic. In order to encourage donations, Dr. Liz decided to conduct an online A2C bootcamp, helping "A players" to enter "C-Suites.
Dr. Liz registered A2CAcademy.org to conduct the online consulting and coaching program in August 2020. A new chapter starts. Since it is fully online, Pat is able to co-teach again and A2C is able to attract and mentor rising working professionals and executives digitally. Dr. Liz is able to exercise with students and holds daily Q&A sessions.
Some students are working moms. They are so busy that they feel they might not be able to spend enough time to learn the new technology and the job trends to coach their own children. They requested Dr. Liz to start the leadership and creativity camps for kids.
The history of the A2C is a continuous learning process and all the progress was made by both the teachers and the students. It has been an integrated synergistic process.
A2C carries 30 years of learning and coaching heritage. Students have been its power, the engine that propels and accelerates every major milestone and step. It clarified the confusion and instilled the confidence of a lost college student, and enabled her to become Elizabeth, then Dr. Liz, a mature, confident C-level executive and board member at public companies. Dr. Liz embraces the legacy from her mentors, continues the same mentorship from Pat and many other mentors. Together, Pat and Dr. Liz will touch hundreds of thousands of people, and these people will help millions of students and working professionals to reach their full potential beyond their wildest dreams.
The goals of life from Dr. Liz also apply to A2C: Live to the your fullest potential Love people and enable them to reach their full potential Learn from people around you Leave a legacy .